Desmond Tutu 1931-2021
Share this post: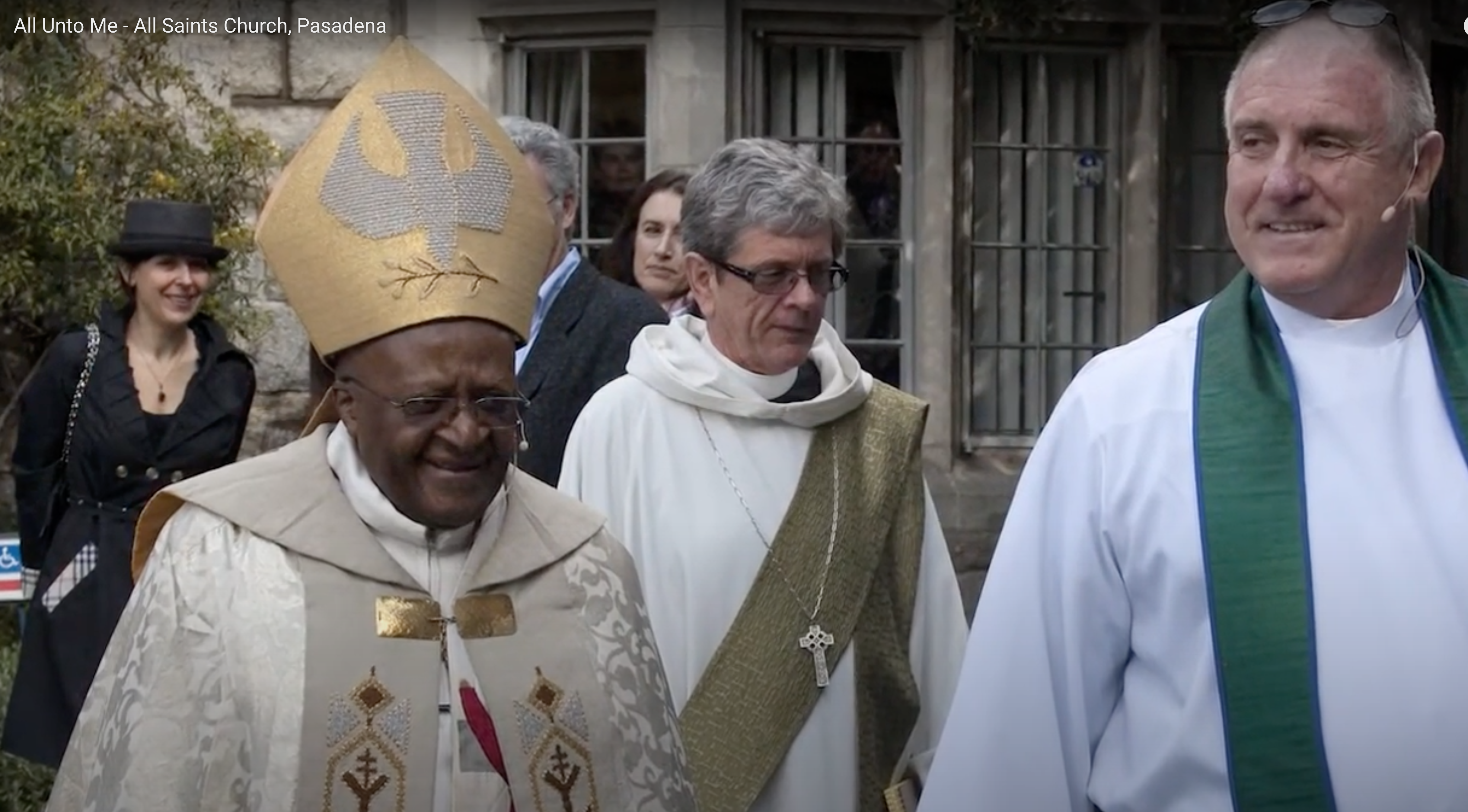 "And I, if I be lifted up, will draw all men unto me." John
12:32
. 
"All Unto Me" is a tribute to Archbishop Desmond Tutu of South Africa, a longtime friend of All Saints Church, Pasadena, and was composed to commemorate the 125th anniversary of the church.
Archbishop Tutu preached a sermon based on John
12:32
at All Saints on November 6, 2007, in which he said: "Jesus did not say, 'I, if I be lifted up, will draw some.' Jesus said, 'I, if I be lifted up, will draw all.' All! All! All! All! Black, white, yellow, rich, poor, clever, not so clever, beautiful, not so beautiful. It's one of the most radical things! All, all, all belong. Gay, lesbian, so-called straight. All! All are meant to be held in this incredible embrace that will not let us go."
This was the inspiration for this a cappella piece, though not the text. Tutu's words inspired an emphasis on the word "all," as well as a more inclusive meaning of the word "men" by adding the word "women." One of the sopranos in the choir told me it was the first time in decades of singing in church in which she had the opportunity to sing the word "women." Archbishop Tutu was once again the guest preacher in our pulpit on February 20, 2011. "All Unto Me" was performed in his presence on that occasion. This recording, from "Time Still," Navona album NV5998, features the combined Coventry and Canterbury choirs of All Saints Church Pasadena, conducted by music director James Walker.
Related Posts
A nice mention from Violinist.com linking to my piece NEVERTHELESS  […]

Trio Casals (Ovidiu Marinescu, cello, Anna Kislitsyna, piano, Alexandr Kislitsyn, violin) have a new album to be released on August [...]

This piece was recorded by the brilliant pianist Robert Thies at The Bridge in Glendale in 2013 […]